The Treasurer in his 2017 Budget speech stated that there was a "K1.1 billion reduction in expenditure in 2017" compared to the revised 2016 level.
I decided to look at the Appropriation Bills for General Government Expenditure for 2016 and 2017 to confirm this and I was shocked to discover that the actual increase in 2017 payments is K7.3 billion and not a decline. The total payments estimated for 2017 is K21.1 billion compared to the 2016 original estimate of K13.8 billion (see Figure 1).  Copies of these Bills are available at the Department of Treasury's website: www.treasury.gov.pg.
Figure 1:
Source: Department of Treasury (www.treasury.gov.pg)
It takes some working through the numbers to figure out what is going on. Firstly, in line with the Constitution (section 209) three separate Appropriation Bills are required for the three arms of Government – one for Executive Government (shown above), the Judiciary and National Parliament.
The Appropriation Bill for spending by the Executive Government is called the Appropriation (General Public Services Expenditure) Bill. Further, the Bill is for total payments made by Executive Government and includes expenses, transfers, capital expenditure and debt repayments.
Secondly, when the Government talks about expenditure level it does not include loan repayments as this are "below-the-line" items, that is, they are balance sheet transactions. However, all spending of public funds (both expenditure and loan repayments) must be first authorized by Parliament during the Budget process. This is a specific requirement of Section 209 of the Constitution. After carefully, scrutinizing the numbers I realized that National Parliament did not make an appropriation for debt service in the 2016 National Budget. But National Parliament only considers what is put before them by the National Government. The 2016 Supplementary budget did not correct this omission either. Nor was there any revision as part of the 2017 National Budget.
The implication of this is that the Government has already spent and will spend up to K9.9 billion unlawfully (i.e. in contravention of the Constitution) by the end of this year.
Table 1: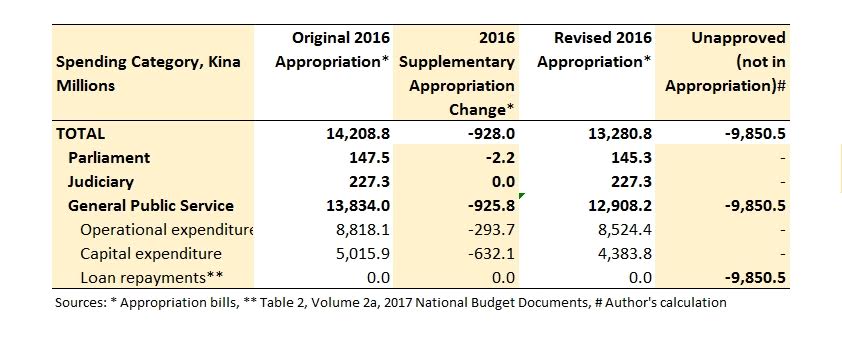 To understand this fully, it is best to consult the 2017 National Budget documents (Volume 2a, also available at www.treasury.gov.pg). This document shows that the total payments to be made by Government (i.e. Executive Government, National Parliament and Judiciary) are K23.8 billion but the sum of the Appropriation Acts (after the 2016 Supplementary Budget) is only K13.3 billion. This is summarized in Table 1. The Appropriations' shortfall is K10.5 billion and most of the difference can be attributed to loan repayments of K9.9 billion.
This is an extraordinary mistake to have made and I am puzzled and shocked as to why it has not been corrected. I wonder if the Prime Minister and his Minister for Treasury are aware of this but have chosen to deliberately ignore this constitutional breach. I wonder if the Departments of Treasury, Finance and National Planning & Monitoring were aware of this but failed to bring it to the attention of Government. Who is accountable for this shocking breach?